November is going to be a great month for Sarah Palin whether John McCain wins or not. If the John McCain/Sarah Palin ticket wins, she'll be an old man's heartbeat away from being (the first female) President and the first female Vice-President. If the ticket loses, she has already made a name for herself in the Republican party and will most likely begin a four-year campaign to run against Barack Obama in the 2012 Election. Not that any of that matters, however, as she won your votes in the "Who Would You Rather in the 2008 Election" Poll and she is the Nerd Corner's MILF of the Month November!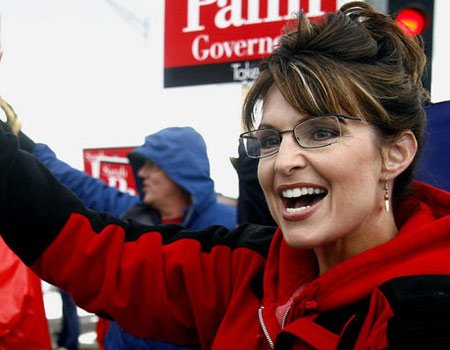 Sarah Palin was born February 11, 1964. Palin was born in Sandpoint, Idaho, the third of four children of Sarah Heath, a school secretary, and Charles R. Heath, a science teacher and track coach. She is of English, German, and Irish descent. The family moved to Alaska when she was an infant. As a child, she would sometimes go moose hunting with her father before school. The family regularly ran 5 km and 10 km races.
Palin attended four colleges and universities before graduating with a degree in Communications/Journalism from the University of Idaho in 1987. In 1982, she enrolled at Hawaii Pacific College but left after her first semester. She transferred to North Idaho community college, where she spent two semesters as a general studies major. From there, she transferred to the University of Idaho for two semesters. During this time Palin won the Miss Wasilla Pageant, then finished third in the 1984 Miss Alaska pageant, at which she won a college scholarship and the "Miss Congeniality" award. Diane Osborne, Palin's hairdresser during the pageants, recalls her as "so soft-spoken, so unobtrusive, so agreeable as to seem void of the urgent quest for attention that Osborne had recognized in others." After the pageants Palin attended the Matanuska-Susitna community college in Alaska for one term. The next year she returned to the University of Idaho where she spent three semesters completing her Bachelor of Science degree in communications-journalism, graduating in 1987.
In 1988, she worked as a sports reporter for KTUU-TV and KTVA-TV in Anchorage, Alaska, and for the Mat-Su Valley Frontiersman as a sports reporter. She also helped in her husband's commercial fishing family business.
Palin was elected twice to the city council of Wasilla, in 1992 and 1995. Palin says she entered politics because she was concerned that revenue from a new Wasilla sales tax would not be spent wisely.
She ran for Wasilla city council in 1992, at age 28, against John Hartrick, a local telephone company worker, on a promise to bring "my progressive, competitive attitude" to the government. She won 530 votes to John Hartrick's 310. On the council, she successfully opposed a measure to curtail the hours at Wasilla's bars by two hours, which surprised Hartrick because she was then a member of a church that advocated abstinence from alcohol. After serving on the city council for three years, she ran for reelection against R'nita Rogers in 1995, winning 413 votes to Rogers' 185.
Palin did not complete her second term on the city council because she ran for mayor in 1996. Throughout her tenure on the city council and the rest of her career, Palin has been a registered Republican.
Palin served two terms (1996–2002) as mayor of Wasilla. At the conclusion of Palin's tenure as mayor in 2002, the town had about 6,300 residents. In 1996, Palin defeated three-term incumbent mayor John Stein, on a platform targeting wasteful spending and high taxes, and Stein says that she introduced abortion, gun rights, and term limits as campaign issues.[34] Although the election was a nonpartisan blanket primary, the state Republican Party ran advertisements on her behalf.
In 2002, Palin ran for the Republican nomination for lieutenant governor, coming in second to Loren Leman in a five-way Republican primary. The Republican ticket of U.S. Senator Frank Murkowski and Leman won the November 2002 election. When Murkowski resigned from his long-held U.S. Senate seat in December 2002 to become governor, he considered appointing Palin to replace him in the Senate, but chose his daughter, Lisa Murkowski, who was then an Alaskan state representative.
Governor Murkowski appointed Palin to the Alaska Oil and Gas Conservation Commission. She chaired the Commission beginning in 2003, serving as Ethics Supervisor. Palin resigned in January 2004, protesting what she called the "lack of ethics" of fellow Republican members.
After resigning, Palin filed a formal complaint against Oil and Gas Conservation Commissioner Randy Ruedrich, also the chair of the state Republican Party, accusing him of doing work for the party on public time and of working closely with a company he was supposed to be regulating. She also joined with Democratic legislator Eric Croft to file a complaint against Gregg Renkes, a former Alaska Attorney General, accusing him of having a financial conflict of interest in negotiating a coal exporting trade agreement, while Renkes was the subject of investigation and after records suggesting a possible conflict of interest had been released to the public. Ruedrich and Renkes both resigned and Ruedrich paid a record $12,000 fine.
From 2003 to June 2005, Palin served as one of three directors of "Ted Stevens Excellence in Public Service, Inc.," a 527 group designed to provide political training for Republican women in Alaska. In 2004, Palin told the Anchorage Daily News that she had decided not to run for the U.S. Senate that year, against the Republican incumbent, Lisa Murkowski, because her teenage son opposed it. Palin said, "How could I be the team mom if I was a U.S. Senator?"
2006, running on a clean-government platform, Palin defeated incumbent Governor Frank Murkowski in the Republican gubernatorial primary. Her running mate was State Senator Sean Parnell.
Despite being outspent by her Democratic opponent, she won the gubernatorial election in November, defeating former governor Tony Knowles by a margin of 48.3% to 40.9%. Palin became Alaska's first woman governor, and at the age of 42, the youngest governor in Alaskan history. She is the state's first governor to have been born after Alaska achieved U.S. statehood, and the first not to be inaugurated in Juneau; she chose to have the ceremony held in Fairbanks instead. She took office on December 4, 2006, and has been very popular with Alaska voters. Polls taken in 2007 early in her term showed her with a 93% and 89% popularity among all voters, which led some media outlets to call her "the most popular governor in America." A poll taken in late September 2008 after Palin was named to the national Republican ticket showed her popularity in Alaska at 68%.