December is the season for most major religious holidays, so why not find the hottest religious leader EVER and pick her as this month's MILF of the Month? Ladies and gentlemen, I present to you the only priest you'd ever want to be molested by- Pastor Melissa Scott.
Melissa Scott (40) is the Pastor and Teacher of the University Cathedral - home of the largest Protestant congregation in Downtown Los Angeles, and televangelist. With command of over twenty languages, she disects and explains the original meaning of what the original writers of the Bible and other Holy Scripture had to say.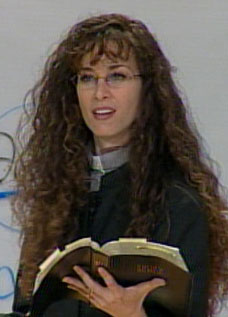 Melissa Scott married famed & infamous televangelist
Dr. Gene Scott
and inherited his congregation and televangelical empire.
You can find her daily televangelical program every weekday sometime after midnight on a local channel.
While I would love to give you a more detailed biography - there hardly is one out there. Which leads to many conspiracy theories over just who Melissa Scott is (WAS). While I would love to offer some of these theories up for discussion - most sites that have discussed her "potential" previous life have wound up being taken off the interwebz oh so mysteriously. Google is your friend. Instead let us all just enjoy some photos of the hottest religious leader EVER...
To view one of her sermons and see her in action (and hear her Canadian accent) click here: http://www.youtube.com/watch?v=GoJ-ZPliCj0
(embedding was disabled :( )